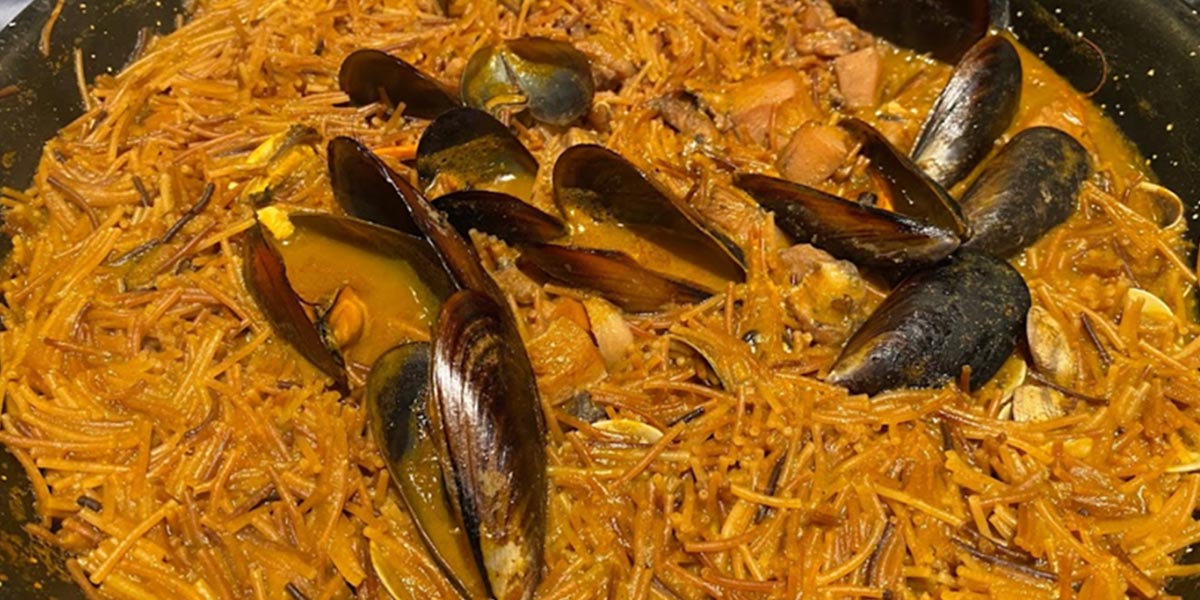 16 Nov

Discover our Delicious Menu in La Barceloneta

Our menu in La Barceloneta is designed to satisfy all tastes, from seafood lovers to meat enthusiasts and vegetarians. Do you fancy a dish of paella with fresh seafood, whose fragrance will transport you to the golden beaches of the Costa Brava? Or do you prefer a Russian salad done right? At Ca La Montse, you can enjoy the art of Mediterranean cuisine in a cozy and typical Barcelona setting.
Restaurant with a Menu in La Barceloneta
If you're looking for an exceptional culinary experience in the heart of Barcelona, you can't overlook the charm of our restaurant, Ca La Montse.
Our restaurant in La Barceloneta is known for its diverse and delicious menu, featuring fresh seafood dishes. From seafood paella to delicious meats, here, you will find a selection of authentic Mediterranean flavors that will take you on a journey through the aromas and tastes of the region.
The restaurant's ambiance is equally charming. The interior is decorated with nautical details and warm tones that evoke the essence of coastal life. Additionally, we have an outdoor terrace that allows you to enjoy meals in the sunshine.
Whether you're looking for a romantic dinner with your partner, a special family meal, or a celebration with friends, Ca La Montse is the perfect place.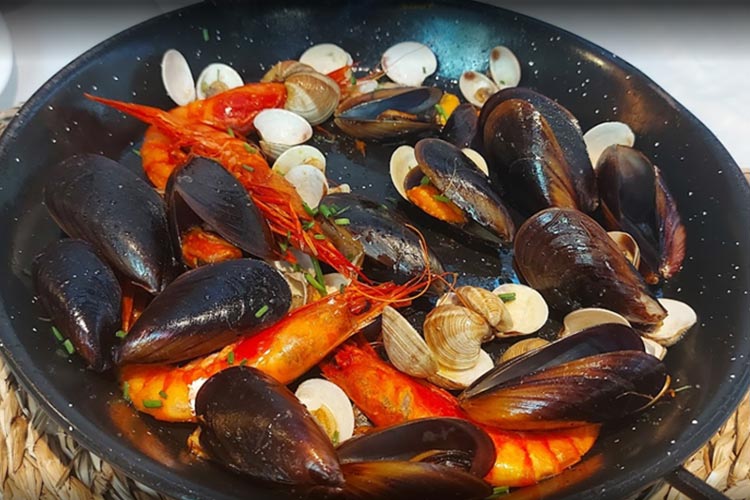 Our Customers' Top 5 Mediterranean Dishes
The Mediterranean is known for its rich culinary tradition, combining fresh ingredients, vibrant flavors, and a unique cultural heritage. In our menu restaurant, we take pride in offering a wide variety of Mediterranean dishes that have captured our customers' palates over the years. Here are some of our diners' favorites:
Steamed Rock Mussels:
Steamed rock mussels are a simple and healthy marine delicacy. These mollusks are cooked by steaming, preserving their juiciness and sea flavor. Their tender meat and characteristic sea taste are enhanced by the steam, making them a delicious choice for seafood lovers.
Confit Cod:
Confit cod is a culinary preparation known for its delicacy and mild flavor. This dish is made from cod loins, a firm and desalted white fish. The confit technique involves cooking the cod at low temperatures in olive oil, maintaining a gentle and steady heat. This allows the fish to cook slowly and acquire an extremely tender and juicy texture.
Lobster Rice:
The preparation of lobster rice starts with the selection of high-quality fresh lobster. The lobster is boiled, and its meat is extracted and used to enhance the flavor of the rice. The rice is usually cooked in a fish or seafood broth, giving it a deep and delicious flavor. Additional ingredients such as onion, garlic, tomato, and peppers are used to further enhance the taste.
Cuttlefish Ink Rice:
The base of this preparation is rice, which is cooked in an aromatic broth enriched with cuttlefish ink, giving it its characteristic dark hue. Cuttlefish, a tender and tasty cephalopod, is cooked alongside the rice, contributing its distinctive flavor and smooth texture. Generally, ingredients like onion, garlic, tomato, peppers, and spices are added to enrich the flavor of the dish.
Black Angus Sirloin:
Its preparation is versatile, allowing it to be grilled, roasted in the oven, or pan-seared, concentrating the juices and flavors, resulting in a juicy and flavorful meat. It is usually seasoned with salt and pepper before cooking and can be served at a wide range of cooking levels, from very rare to well done, according to individual preferences.
Christmas and St. Stephen's Day Menu 2023
Celebrate the festive season in a memorable way with our exclusive Christmas and St. Stephen's Day Menu 2023. This year, we are excited to present a unique culinary experience that combines tradition and innovation to satisfy all food lovers.
In our restaurant, Ca La Montse, we have prepared a special menu that reflects the essence of the holiday season. Our chefs have created a selection of exquisite dishes that will immerse you in an unforgettable culinary experience.